5,000 buyers to gather at Ukrainian Food Expo 2019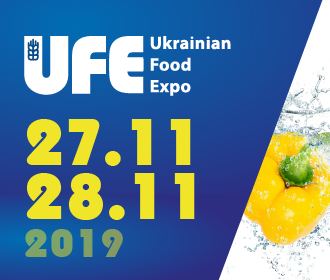 ---
---
Are you a manufacturer of Ukrainian food products and still looking for reliable distribution channels for your products both in Ukraine and abroad?
Are you a representative of Ukrainian business (HoReCa, retail, wholesaler, distribution company) and still looking for reliable partners and high-quality domestic products?
Are you a representative of foreign business (buyer, importer, trader) and still looking for reliable business partners in Ukraine and products labeled "Made in Ukraine"?
Then you should not miss this event!
Ukrainian Food Expo 2019 — is an efficient international b2b-platform that can help you make a name in the market and present your product to your target audience, negotiate with potential partners, enter into successful contracts, establish a partnership, useful business relationship, and expand your sales market.
210 exhibitors and 5,000 business visitors, among which are foreign buyers from more than 50 countries across the world, Ukrainian retail, and HoReCa.
Also, there will be 9 business events, covering all the branches of the food industry; separate zones "Food Tech" and "From Field to Fork"; interactive system "Offering / Looking for" and mobile app UFExpo.
Only high-quality audience, including leading domestic manufacturers of food and beverages, directors and top managers of HoReCa and retail segment, Ukrainian distributors, foreign importers, and traders, as well as suppliers of equipment and technologies for the food industry.
On November 27-28, 2019, we are gathering at the International Exhibition Centre (Kyiv).
Organizer: Ukrainian Food Export Board (UFEB).
For more information:
+38 (067) 636 93 17
iu@ukrainian-food.org