IV National Garden Day: Ukraine provides 25% of the production of soft berries in Eastern Europe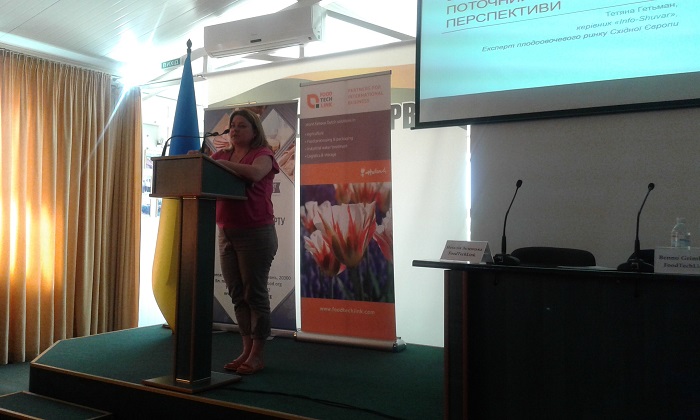 ---
---
Ukraine provides 25% of the Eastern European production of soft berries (strawberries, currants, raspberries, etc.) and 10% of firm berries production (cherries), but almost does not export these products: our country's share in the export of soft berries is 6% and of firm berries - only 3%.
This was reported by the head of Info-Shuvar, the expert of the fruit and vegetable market of Eastern Europe Tatyana Getman during the section "Export and Processing" at the IV National Garden Day.
"Among the countries of Eastern Europe, Ukraine provides almost 25% of the production of soft berries and about 10% - of firm berries. But we are almost unnoticeable in exports. This is the answer to the question why our producers are not motivated to enter the foreign market - while there is enough domestic sales. The margin is sufficient now. But this is temporary. We must think about export," Tatiana Getman said.
The expert said that consumption of fresh berries in the world annually grows by 15%. The main consumers are the USA, Russia, Germany, Great Britain, Belgium and France. Almost half of the world trade volume falls on strawberries, the consumption of which grows by about 3-5% annually. But every year this berry is slightly inferior to blueberries and raspberries, which are the leaders in the growth of sales in the world (17-20% annually).
According to Tatyana Getman, the volume of the market of firm berries in Ukraine is about 65 thousand tons or 53 million dollars, and soft - 55 thousand tons or 51 million dollars.
In 2010-2013 there was a boom in laying new berry plantations in our country. Leaders of production areas expansion (and leaders in price reduction in the long term) are raspberries, blueberries and currants. According to the expert, the price reduction will promote the growth of consumption of these berries in the domestic market.
At the same time, prices for cherries and strawberries will remain stable, as the expansion of plantations under them stalled.
Tatiana Getman predicts further development of the freezing of berries and that cooperation of producers and the cultivation of organic products for export will continue.