Participants of the congress Ukrainian Food 2016 will save thousands of dollars on analysts - Bogdan Shapoval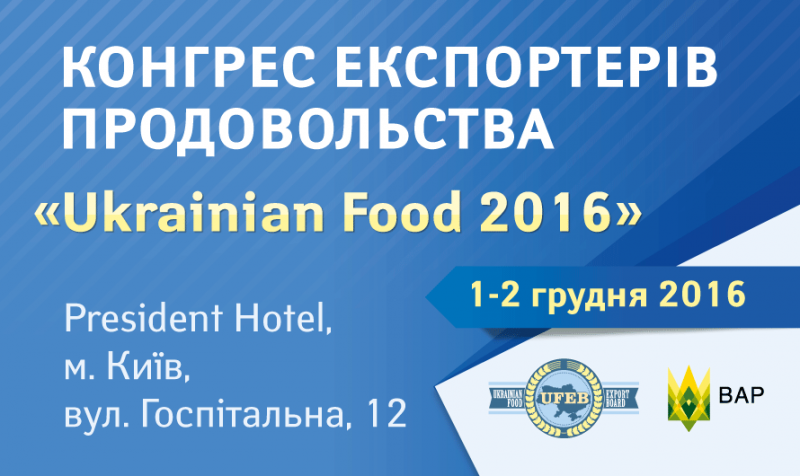 ---
---
Participants of the food exporters congress Ukrainian Food 2016, which will be held December 1-2 in President Hotel in Kiev, will save thousands of dollars on analysts as will create their own strategy of foreign market entry directly at the event, the chairman of the Ukrainian Food Export Board (UFEB) Bogdan Shapoval said.
"We will discuss at the congress how to explore a new market without hiring analysts for thousands of dollars. The participants will learn in special regional zones of the congress, how to enter the markets of interest, how to work on them and all the difficulties they may face. In a nutshell, representatives of economic departments of embassies, importers or sales specialists of leading Ukrainian exporting companies will give the participants all the necessary information about activities in a new environment just in two days,"- Shapoval said.
In particular the regional areas are Asia, European Union, Middle East and North Africa.
Also invited the Minister of Agrarian Policy and Food Security Taras Kutovyi, Deputy Minister of Agrarian Policy and Food Security Olga Trofimtseva, Deputy Minister of Economic Development and Trade - Trade Representative of Ukraine Natalia Mykolska, National consultants of Food and Agriculture Organization (FAO) Vitaly Bashynsky, a leading expert of agricultural markets, national consultant of FAO Andriy Pankratov, Head of State Service on Food Safety and Consumer Protection Volodymyr Lapa, Head of Economic Cooperation Department, Ministry of Foreign Affairs of Ukraine Oleksandr Danyleyko, Chairman of "Dubnomoloko" Oleg Voloshin, Director of business development "Millenium" Igor Malinovsky, Chairman of UFEB Bogdan Shapoval, Senior analyst of UFEB Anna Burka, Chairman of the Ukrainian Agrarian Council Andrii Dykun, Deputy Chairman of the Ukrainian Agrarian Council Mikhaylo Sokolov and others.
---
---