Butter demonstrates positive dynamics among the export of other dairy products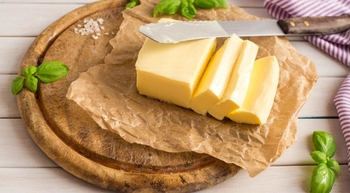 ---
---
Over the past period, Ukraine has demonstrated a decrease in export of dairy products, while butter is the only product which export rate demonstrates a positive trend (+16.2% in January-August of 2018), the analytical department of Ukrainian Food Export Board (UFEB) reports.
"During January-August of the current year, the export rate of butter amounted to 21.5 thousand tons with a total value of 92.4 million USD, according to the State Customs Service. The main buyers of domestic butter were Morocco - 22.9%, Turkey - 14.3% and the Netherlands - 9.5%", UFEB notes.
"The devaluation of Ukrainian hryvnia will stimulate export of key dairy products, especially butter," the expert adds.
Analysts of the Ukrainian Food Export Board (UFEB) note that during January-August 2018 the total value of imported products amounted to 4.8 million USD which is 300% higher than during the same period of the last year (1.6 million USD).
The volume of butter supplies to Ukraine is 238% higher (0.714 thousand tons) than during the same period last year (0.299 thousand tons), and the main buyers were Germany (38.7%), Netherlands (32.1%) and Turkey (14.3%).