The EU is the main consumer of watermelons and melons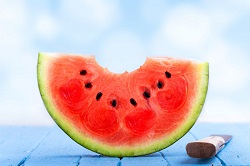 ---
---
Exports of melons, watermelons decreased by 28% in January-July of 2018 compared to the same period of the last year (7 thousand tons in 2018 against 9.7 thousand tons in 2017), the analytical department of Ukrainian Food Export Board informs.
The main buyers of the last year were the nearest foreign countries: Belarus – 39.8% (3.8 thousand tons), Poland – 20.3% (1.9 thousand tons), Latvia – 13.5% (1.3 thousand tons), Lithuania – 11.8% (1.1 thousand tons), Estonia – 10.6% (1.03 thousand tons). The export geography of this year has not changed significantly, Ukrainian watermelons and melons are bought by Belarus (29.3%), Lithuania (26.5%), Latvia (20.9%).
Experts note that the decline in exports of this year is due to the difficulty of entering the EU market, the main consumer of watermelons and melons. This market is very important for a number of exporters, and competition is high in it. Note that Ukraine occupies 55th place among exporters of melons, and the main players in the global market are Spain, Mexico, the Netherlands and the United States.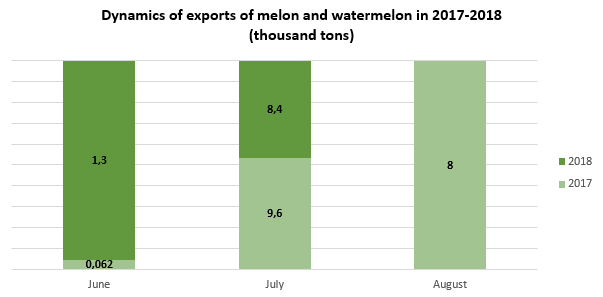 Source: State Customs Service
"Imports during January-July of this year amounted only to 552 tons (598 tons during January-July of the last year). Fall months, namely September and October, are determined as the peak periods of imports, as domestic demand is high and domestic supply cannot satisfy it. The main suppliers of the last year were Brazil (28.2%), Republic of Moldova (22.3%) and Uzbekistan (17.7%). In accordance with the data of the State Customs Service, during the seven months of the current year, the main importers are Turkey (27.7%), Brazil (24.6%) and Uzbekistan (22.4%)," analytical department of UFEB comments.
Source: State Customs Service
Considering the dynamics of prices of the current year, it can be noted a slight increase in the segment of watermelons compared to the same period of the previous (+1.1 UAH/kg). The price of melon, on the contrary, fell by 4.5 UAH/kg.
"The increase in prices during the last year is due to arid weather conditions, which reduced the total amount of crops and raised prices for them. This year the situation is more favorable for producers, yields are expected to increase by 5-7% compared to the previous year which will restrain prices," expert of analytics details.