Ukrainian Food Dubai 2019 expands business horizons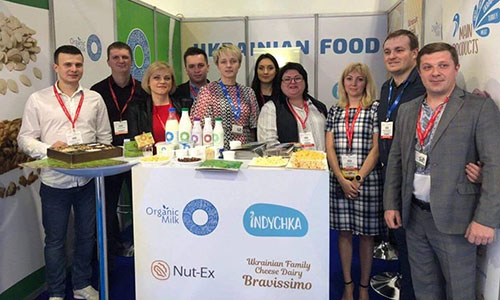 ---
---
More than 40 representatives of the food business got together on February 19 at the business forum "Ukrainian Food Dubai 2019", which was held within the framework of Gulfood!
Among the buyers were representatives from the UAE, Saudi Arabia and Oman. They were interested in dairy and meat products, confectionery, nuts, seeds, sauces and others.
The event was opened by Olha Trofimtseva, the interim Minister of Agrarian Policy and Food of Ukraine. General Manager of Ukrainian Food Export Board Bohdan Shapoval told about the prospects for trade development between Ukraine and Gulf states. And the step-by-step review of exports to the above-mentioned countries (Gulf Cooperation Council) was done with Sviatoslav Dubina.
They participants have also learned about the business prospects for cooperation with the UAE, and Maria Shevchuk told foreign representatives how to find reliable partners in Ukraine.
The final part of the event involved b2b-networking between Ukrainian food manufacturers and foreign buyers when everyone could have a conversation in an informal setting.
Participation in such business forums gives Ukrainian companies a chance to build strong relationships with potential foreign partners. And for buyers it is an opportunity to find out more about products manufactured in Ukraine, as well as to establish a direct contact with managers of Ukrainian food industry enterprises. Participation in the forum contributes to expanding the geography of business and provides an opportunity to find reliable partners for both sides," Bohdan Shapoval noted.
We are grateful to everyone for active participation in the business forum and hope to see you at Gulfood 2020!
Organizers: Ukrainian Food Export Board together with Ukrainian Chamber of Commerce and Industry, Export Promotion Center KCCI, Ministry of Agrarian Policy and Food of Ukraine, Export Promotion Office of Ukraine and Ukrainian Business Hub in GCC.
Stand Ukrainian Food at Gulfood 2019: NutEx, Organic Milk, Indychka, Bravissimo.